Best Offset Smokers for 2023 – Top Reviews & Buying Guide
Just so you know, if you click on a product on Smokermasters.com and decide to buy it, we may earn a small commission.
If you love to barbecue and are often found barbecuing in gatherings, you would know how a perfectly smoked steak or burger makes everything a lot better. You can only achieve this if you have your hands on a high-quality offset smoker that does its job well.
While you can also use a grill to smoke the meat, you will never get the results you get while smoking it on an offset smoker. However, with hundreds of options to choose from, selecting the best one might turn out to be quite overwhelming.
In order to sort that out for you, we have selected the 10 best offset smokers that you can choose from and take your barbecuing experience to a whole new level.
What is an Offset Smoker?
Before moving to the list of products, let's first know what an offset smoker is and how it actually works to give you the desired output.
Also known as a side firebox, barrel, horizontal cooker, or pipe smoker, an offset smoker consists of a vast steel drum at the disposal. The design is based on the old bricks pits brought into modern form. It consists of the main chamber placed in the center of the smoker and a fire chamber on its side where the primary source of heat is located.
This causes the fire to ignite in one room, and the resulting smoke then goes to the next chamber and passes through the meat. The advantage of this procedure is that the meat cooks slowly and gets plenty of time to become tender. Also, the smoke swirls around the meat and allows the flavor to get infused properly.
Offset smoker Pros
Excellent smoker distribution
Ideal airflow
Large cooking capacity
Dual chamber design
Best for versatile cooking
Offset smoker Cons
Less fuel-efficient
Needs barbecuing experience
How does the offset smoker work?
An offset smoker consists of two main chambers that are sealed and of different sizes but connected with each other. The smaller box of the two is the firebox where you ignite the wood or charcoal, and its position is a bit lower than the larger box where you barbecue the meat.
The larger of the boxes is called the cooking space or an oven, and it is placed a bit higher than the firebox so that the rising smoke from the firebox is forced through it. There is also a chimney through which the smoke moves out once it is done with its job, i.e., smoking the meat thoroughly.
You can also control the heat or smoke going through the meat in an offset smoker by adjusting the exhaust vents and the air intake. When you keep the vents open, it produces a hotter fire since the amount of oxygen getting into it is more.
Inside the chamber, the temperatures vary since the portion of the cooking space closer to the fire chamber is hotter while the one away from it is comparatively less hot. Remember, the bigger the chambers are, the more disparity in temperature will be observed. Therefore, to maintain equal fire throughout the food and have even cooked steak, you need to keep rotating the food's directions or properly managing the airflow.
If the heat is high in the cooking space, the beef may lose its moisture and affect the final taste to a considerable level. To avoid this, you can get a pan of water and put it in the bottom so that the meat gets the required steam to maintain its moisture and maintain the smoker's heat levels.
How to maintain a temperature in an offset smoker?
Here is how you can maintain the temperature in your offset smoker
The first and foremost thing to do is start the fire in the fire chamber. Let the smokestack keep fire doors and dampers open so that the fire grows. Once the fire is enough to cook your food, keep the firewood on top and let the doors close. Remember that the dampers should still be open.
If you notice the fire going down, add another piece of wood and leave the door of the firebox open until the wood catches fire. If the fire is too high, you can try closing the dampers a bit to lower it down.
Smoke also plays a huge part in cooking food properly. Thick white smoke means your wood is not burning properly, and in this case, you will need to allow the oxygen to enter the firebox and adjust the dampers or doors until the smoke turns thin blue.
Since temperatures are not consistent in the cooking space, the placement of the food plays an essential role in proper cooking. The food kept closer to the firebox gets more heat as compared to the food kept away from it. Therefore, you need to keep checking the food placement and adjust their spots according to how the cook is coming along.
Keep replacing the positions of the food until and unless you get the desired cooked output of your steaks.
Comparison of the Best Offset Smokers for 2023
Best Offset Smokers- Top Rated 10 Offset smokers for 2023
 Cooking Surface: 1060 square inches
Smoker Weight: 226 pounds
Smoker Dimensions : 35.5 x 64.25 x 55.5 inches
• Pre-Installed Baffle Plates
Known for its construction, sturdier build, and effective design, the Oklahoma Joe's Longhorn Reverse Flow Smoker is one of the leading smokers available in the market. It provides you with a total of 1060 square inches of cooking surface, which is big enough to accommodate quite much of the food in one go.
The reverse flow design in this offset smoker helps in evenly distributing the smoke throughout the chamber. This happens because of the design that comes with four baffle plates lying under the grate, which are responsible for developing consistent temperature throughout the length of the chamber.
Even heat and temperature help in having the best-cooked food without worrying much about changing the food's direction with time. Additional features include cool touch handles, a large basket and lid mounted temperature gauge.
Final Verdict:
Along with being large, durable, and effective, the Oklahoma Reverse Flow Smoker is affordable too. It can definitely be a great choice if you are tight on your budget and still want to enjoy the best features of a smoker.
 Cooking Surface: 1176 square inches
Smoker Weight: 57 pounds
Smoker Dimensions : 20.2 x 34.52 x 47.03 inches
Height adjustable cooking grates
Have a backyard, get to gather, and want to make food with an offset smoker that can grill, roast, and cook at the same time? Dyna-Glo DG01176BDC-D charcoal smoker is definitely your go-to option. All the features it comes with make it an ideal smoker to easily fulfill all your requirements and demands regarding roasting and smoking food.
It consists of a porcelain-enameled steel charcoal chamber which is specially designed to provide improved burn efficiency by keeping the fuel briquettes compact.
Additionally, it doesn't take up much space on the ground since it has a vertical design and is super easy to use, even for beginners. It comes with six removable and adjustable racks that can accommodate 25 pounds of food at a time individually.
Final Verdict:
With such an affordable price and offering amazing features like great rising heat, improved burn efficiency, an easy ash management system, and a built-in thermometer, this offset smoker can handle everything you want from it.
Cooking Surface: 300 square inches
Smoker Weight: 62 pounds
Smoker Dimensions : 37 x 18 x 36 inches
Precision Temperature Control
If you love to give your barbecue a wood-fired taste and don't want to use charcoal again, this Traeger Portable wood pellet smoker will do this job for you. This smoker is suitable to be used in your backyard, but it is also ideal for camping, fishing, and tailgating because it is super light in weight and portable.
The smoker is specially designed small, so it can accompany you on your adventurous journeys, and the small size makes it ideal for people who have smaller backyard spaces.
The durable legs can easily be folded and have wheels to move it from one place to another. The grill capacity of 300 square inches can easily accommodate two whole chickens, three racks of ribs, and twelve burgers.
Final Verdict:
Although the price is much high for a portable smoker as compared to the competitors, this offset smoker can turn out to be a great choice if you want to take it on your adventures and enjoy six-in-one features like smoke, braise, bake, roast, grill and BBQ.
Cooking Surface: 830 square inches
Smoker Weight: 113 pounds
Smoker Dimensions : 62 x 29 x 50 inches
Removable charcoal drawers
Whether to smoke your meat or to grill it and whether to buy a smoker or a grill? This is a continuous dilemma that people who love to do barbecues go through. What if you get a smoker that fulfills the grilling demands too? Yes, you read it right.
The Char-Griller 1224 Smokin Pro looks like a traditional offset smoker, but its main chamber also has an adjustable charcoal burning tray. The high quality offset smoker comes with a removable charcoal drawer that allows the users to put charcoal and dump the ashes without any hassle.
In order to avoid the issue of warping, the grill is made of non-stick cast iron. Some additional features like a storage rack, wheels for easy transport, and temperature gauge make this smoker stand out among competitors.
Final Verdict:
This Char-Griller offset smoker can prove to be a great option if you want to occasionally grill and smoke your meat and don't want to invest in getting the two of them separately.
Cooking Surface: 625 square inches
Smoker Weight: 186 pounds
Smoker Dimensions : 52.5 x 26 x 60 inches
Cast Iron cooking grids
Having to showcase great craftsmanship, this Broil King Charcoal Smoker may be high in price as compared to the competitors but have amazing features to offer. What makes this one of the best offset smokers available in the market is that it has a double-walled construction and excellent fuel efficiency.
The heat retention and durability of this offset smoker are exceptional because of its 2mm/14 gauge steel construction. It consists of a Roto-draft temper technology and a chimney-style stack that effectively manages the airflow.
Both the chambers have removable ashtrays that make the cleaning process a lot easier. The smoke diffusing charcoal trays are included in the setup to make your food taste a lot better.
Final Verdict:
If aesthetics are not much of a problem for you and you can compromise on the paint getting peeled or bubbled over time, this Broil King smoker is a great choice due to its additional features and durability.
Cooking Surface: 619 square inches
Smoker Weight: 176 pounds
Smoker Dimensions : 39 x 20.9 x 23 inches
Multiple dampers
It is a traditional offset smoker and has two main parts of the firebox and cooking space. There is a chimney located on the top of the lid that is present there to direct the heat and smoke exit. It comes with a total of 619 square inches of cooking space, so you will not need to cook your food in batches.
This Oklahoma Joe's Highland Offset Smoker also comes with a reverse technology which means that the heat and the temperature are distributed evenly throughout the whole chamber. This helps in an even cooking and excellent final result to fulfill your cravings.
Best of all, the body of the smoker is made using robust steel, which makes it great at accommodating high heating temperatures and retaining heat, while the dampers allow you to have proper control over the airflow.
Final Verdict:
If you are not tight on your budget, this offset can be a great choice because of its sturdy design, massive cooking space, and excellent performance.
Cooking Surface: 811 square inches
Smoker Weight: 54.2 pounds
Smoker Dimensions : 53.39 x 27.2 x 48.82 inches
Height adjustable charcoal pan
Are you looking for a grill and charcoal offset smoker that has it all? Royal Gourmet BBQ charcoal grill and offset smoker is your go-to option. You can enjoy grilling and smoking your food both using this griller and offset smoker, which is impressive because you rarely get both features in one product.
Having an offset smoker with the grilling facility is one of the factors that have made this smoker added to the list of best offset smokers that you can buy. The large cooking space that it comes with allows you to cook meat and burgers, hot dogs, and much more variety of food.
Additionally, the charcoal pans are two-level heights -adjustable and offer better heat control along with being able to hold around 4.4 pounds of coal.
Final Verdict
The smoker only works well for minor cuts of meat but is available at an affordable price, so if you are tight on your budget and don't plan on cooking large pieces of meat, this smoker is worth it.
Cooking Surface: 452 square inches
Smoker Weight: 84 pounds
Smoker Dimensions : 45x 28 x 49 inches
Pellet Grill Technology
Not only is this offset smoker well priced, but it also really performs well along with a great build. The Z Grills ZPG-450A grill and smoker is one of the very rare offset smokers that come with a 30-days money-back guarantee just in case you are not satisfied with the performance. It is an ultimate 8-in-1 offset smoker that allows you to prepare your food in eight different ways, including smoke, barbecue, bake, grill, roast, char-grill, braise, and sear.
The smoker is a bit small in size compared to other models of this company which is why it is ideal for small families and small gathering barbecues. However, the capacity is big enough to accommodate large pieces of meat. It comes with a PID technology that is designed to hold the temperature tight throughout for a consistent cooking experience.
Final Verdict:
This offset smoker is an excellent value for the price; however, the use of this smoker may be bound to just small families because of its smaller size.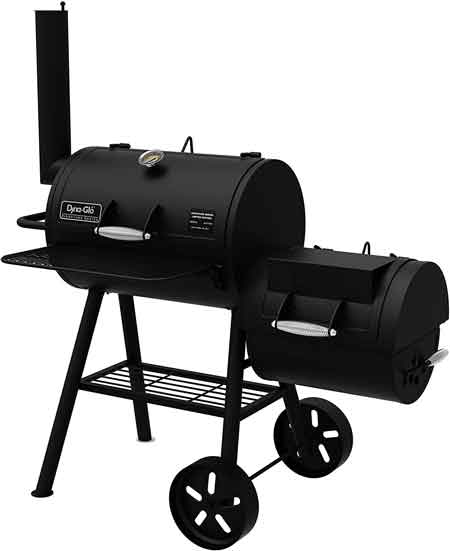 Cooking Surface: 730 square inches
Smoker Weight: 123.2 pounds
Smoker Dimensions : 52 x 33.86 x 59.84 inches
Heavy-gauge construction
When it comes to an affordable offset smoker, the Dyna-Glo Signature Barrel Charcoal Grill and Offset Smoker definitely stand out among the competitors. Since it is available at quite a reasonable price, you may not get a thick construction like a premium off set smoker.
However, it can easily accommodate a considerable amount of meat. So, this can save your day if you are tight on budget and don't want to cook food in batches at the same time. Although the first impression may be of relatively cheap quality, the offset smoker is very sturdy compared to other smokers in a similar price range.
It can work a lot more and has a better life than the competitors at the same price. It comes with a cool-touch spring lid handle that makes handling the smoker easier, even during the cooking process.
Final Verdict:
The smoker provides excellent quality, durability, and more features at an affordable price. Additionally, getting added grilling facility is quite rare at this price range, so this smoker definitely stands out in this case.
Cooking Surface: 613 square inches
Smoker Weight: 55 pounds
Smoker Dimensions : 42.5 x 26 x 39.4 inches
Four adjustable vents
Providing you with a total of 613 square inches of cooking space, SUNCHIEF grill with an offset smoker is one of the greatest charcoal BBQ grillers available with an offset smoker. It comes with four adjustable vents for better airflow and heat control, resulting in better cooking results.
Along with that, there is a bottom shelf that is specially designed to provide additional storage space.
The meat cooked on this smoker in one go can easily serves ten people at a time. There is a chrome-plated cooking grid that allows the coals to be added quickly during grilling the meat.
The base of this smoker is quite sturdy, and it has two wheels that make the transportation from one place to another quite easy and convenient. There are four adjustable vents added to make the airflow ideal for perfectly cooked steaks. You can easily adjust them according to your cooking needs.
Final Verdict:
The offset smoker is a great choice because of providing features like extra workspace, easy-dump ash pan, easy transportation, etc. However, it may be difficult for you if you are a beginner since the instructions are difficult to read and understand.
Buying Guide to Find Right Offset Smoker
To make your decision to buy an offset smoker easier, here are the features that you need to look for before making your final decision.
Temperature gauges
To enjoy perfectly smoked meat, it is extremely important that you don't need to open the lid again and again to measure the chamber's internal temperature.
For such purpose, it is pretty essential that you look for an offset smoker in which you are able to measure the internal temperature by having two thermometers on either side.
This will help you keep an eye if the smoker is providing even cooking throughout the chamber or not.
Check Also: Best Offset Smokers Under $1000
Size of the Firebox
Make sure that you select a smoker with a large firebox size to accommodate a considerable amount of fuel, including charcoal, wooden chips, split wood, etc., without any trouble. This feature will provide you with a continuous barbecue experience, and you will not need to refill the firebox with fuel again and again.
Proper Sealing
One of the essential factors that help in an even cooking experience is the proper sealing of doors and lids. If they do not close properly and have some space left, you will have to put much more effort into maintaining the temperature to avoid uneven cooking.
Also, you may need to invest more money in buying fuel for a stable internal environment because of poor sealing.
Cooking Chamber Size
You don't want to cook in batches, especially when you have a barbecue party and everyone waits for the meat to cook.
Therefore, you must pay attention to the cooking chamber size with a huge space to accommodate many steaks or burgers. Additional racks and hooks also play an essential role in cooking a massive quantity of food at a time.
Portability
If you feel like you will need to move your smoker often or want to take it on your traveling adventures, you definitely need to look for the factors that affect its portability. How heavy is the smoker, does it have a handle to hold on to, does it come with wheels to make moving it convenient and easy are some questions you need to tick mark before buying it.
Outer Seal and Paint
Low-quality offset smokers are more prone to paint peeling and flaking. These flakes are definitely not ideal to be found in your food, and also, your meat may start getting rust once the outer seal has begun to wear off because of poor quality.
Budget
Although we'd always recommend going for high-quality offset smokers, choosing one definitely depends on your budget. If you are not tight on your budget and have much to invest in a smoker, you should definitely go for a smoker with the most outstanding features to offer and a warranty in case of any mishap.
Strong Material
Choosing an offset smoker highly depends on the material it is made from. The material should be strong enough so that it can easily handle high heat and some wear and tear. Not only is the sturdiness of the body necessary, but if the smoker has wheels, they also need to be sturdy to be able to carry the weight and quickly move from one place to another.
Warranty
One of the most significant factors that make any company's offset smoker a good choice is its warranty. It should come with a lifelong warranty which ensures that the company will handle all the major manufacturing faults if occurred.
Smoker Cover
Make sure that the smoker you are going to buy comes with a cover from the company. This is extremely important because a waterproof cover will save the body of the smoker from getting rusted.
If there is no cover with the package, you will need to invest in it separately to keep your smoker's body away from any kind of damage.
Space
According to the area you have to place it on, the space that a smoker takes is also important to consider. Make sure you keep in mind the space for ventilation that needs to be left around the smoker for a proper size choice.
Ease of Cleaning
The cleaning of the smoker can only get easy if it comes with removable plates and ashtrays. It should also come with a drain or a chimney to simply remove the inside smoke of the barbecue.
You don't want to get yourself indulged in scrubbing the whole smoker; therefore, looking for these factors is vital to make your smoker's cleaning experience easier.
How Do I Clean My Offset Smoker?
Maintaining the cleanliness of your smoker will keep the vents open and flowing and therefore prevent it from aging prematurely. It's not something you can spray down with the hose, so no matter how hard you try, you can't reach all the nooks and crannies.
Several ways can be used to clean, but here's a simple breakdown of the main methods.
Make sure that the firebox is empty. Drain the ash from any leftover pieces and ensure that the firebox is empty. There are two ways to dispose of your ashes – you can put them in your garden or you can throw them straight into the garbage.
Make sure that the cooking chamber is clean. It is not necessary to spray the surface with water, but to lightly wipe it with a paper towel or clean cloth. In order to avoid something as harmful as cracking and rust, stop yourself from getting into there with something abrasive, as it will damage the finish.
Clean your heat deflection plates by wiping them down. Follow the same procedure as before. Use no abrasives and avoid soaking them.
Make sure your grills are clean. You may be able to soak your trays. The stainless steel should be a type that is food-grade and can be submerged in liquid.
Conclusion
An offset smoker is great when it comes to grilling or smoking your barbecue like a pro. While there may be hundreds of offset smoker options available in the market, getting your hands on the right one might be a task. Don't get fooled by fancy features or high price. Take some time, note down your requirements, consider your budget, analyze available offset smokers and choose the right one for your smoking needs.
Frequently Asked Questions:
1- Why are offset smokers the best?
The offset smokers make the barbecue cooking experience a breeze of fresh air since they come with large cooking chambers so that you don't have to cook in batches. Along with that, the firebox is separate, so you will not have to open the main chamber again and again to refill some fuel in the smoker.
2- When should I add wood to my offset smoker?
You need to add wood to the smoker when you want to smoke the meat. The right time to add wood is when the meat is still cold because this is when the meat takes most of the smoke without you needing to intervene at times. However, make sure the coals have stopped smoking before adding wood to the chamber.
Can I put wood chips directly on charcoal?
Yes, you can put wood chips directly on the charcoal to achieve the desired flavor. However, if you prefer, you can use them separately in a smoker box.
3- What if the wooden chips burn too quickly?
If your wooden chips burn too quickly, you need to soak them in the water before putting them in the chamber. Also, avoid opening the damper and doors again and again since more airflow will result in burning the wood chips even quickly.
4- Which is better, offset or reverse flow smoker?
A reverse flow smoker is always a better choice since it guarantees a more consistent cooking temperature as compared to an offset smoker. However, the offset doesn't lack behind in performance since it offers an excellent airflow for providing a cleaner burn.
5- Can I grill steaks on an offset smoker?
Of course, you can quickly grill excellent steaks on an offset smoker. All you need to do is to provide the smoker with a high heat source for the final sear of the steak.
About Shawn Summer
Best when it comes to BBQ. From charcoal grills to pellet smokers, I've got you covered. My goal is to share my knowledge and passion for grilling with you, so you can create delicious meals for your family and friends. Let's get grilling!